by Sherif M. Awad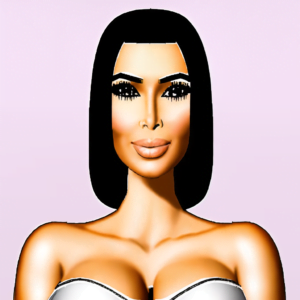 Kim Kardashian is one of the most recognized and influential celebrities in the world. Her life has been full of ups and downs, but through it all, she has remained a strong and determined person. In this article, we will take a look at the top ten moments in the life of Kim Kardashian.
Sex Tape Scandal
In 2007, a sex tape featuring Kim Kardashian and her then-boyfriend, Ray J, was leaked to the public. The scandal caused a media frenzy and put Kim Kardashian in the spotlight. Many criticized her for the tape, but she used the scandal as an opportunity to launch her career.
Launch of "Keeping Up With the Kardashians"
In 2007, the reality TV show "Keeping Up With the Kardashians" premiered on E! Network. The show followed the lives of Kim Kardashian and her family, and quickly became a hit. The success of the show led to numerous spin-offs, and made Kim Kardashian and her family household names.
Marriage to Kris Humphries
In 2011, Kim Kardashian married NBA player Kris Humphries in a lavish wedding ceremony. The couple's marriage lasted only 72 days, and they filed for divorce amidst rumors of fraud and publicity stunts.
Birth of North West
In 2013, Kim Kardashian gave birth to her first child, North West. The birth was highly publicized, with the media closely following Kim's pregnancy and the birth of her daughter. North West has since become a fixture in the Kardashian family's public life.
Marriage to Kanye West
In 2014, Kim Kardashian married rapper Kanye West in a private ceremony in Italy. The couple's relationship had been highly publicized, with Kanye famously declaring his love for Kim in his song "Bound 2." The couple has since had three children together.
Launch of KKW Beauty
In 2017, Kim Kardashian launched her own beauty line, KKW Beauty. The line quickly became a success, with products selling out within minutes of release. KKW Beauty has since expanded to include fragrances and skincare products.
Meeting with President Trump
In 2018, Kim Kardashian met with President Trump at the White House to discuss prison reform. Kim had been advocating for the release of Alice Marie Johnson, a nonviolent drug offender who had been sentenced to life in prison. After Kim's meeting with Trump, Johnson was granted clemency and released from prison.
Robbery in Paris
In 2016, Kim Kardashian was robbed at gunpoint in her hotel room in Paris. The thieves stole millions of dollars worth of jewelry, and the incident left Kim traumatized. The robbery received worldwide media attention, and led to increased security measures for Kim and her family.
Controversial Photoshoots
Kim Kardashian has been at the center of many controversies over the years, but perhaps the most notable were her controversial photoshoots. In 2014, Kim posed nude for Paper magazine, with the tagline "Break the Internet." The photos caused a stir, with many criticizing Kim for setting a bad example for young women. In 2020, Kim posed for a photoshoot in a vintage Gucci thong, which again drew criticism for its overtly sexual nature.
Divorce from Kanye West
In 2021, Kim Kardashian filed for divorce from Kanye West after seven years of marriage. The couple's divorce has been highly publicized, with rumors swirling about the reasons behind the split. Despite the divorce, the couple has maintained a friendly relationship for the sake of their children.