by Sherif M. Awad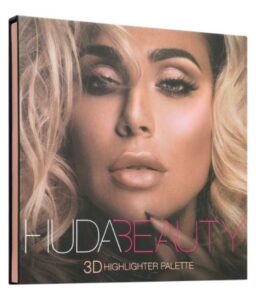 In the world of cosmetics, makeup enthusiasts are constantly on the lookout for innovative and captivating products that can enhance their beauty routines. One such product that has been making waves is the Huda New Selena palette, a makeup set inspired by the iconic singer and actress Selena Quintanilla-Pérez. In this article, we delve into the details of this palette, exploring its features, availability, and the brand behind it. Join us as we uncover the allure and charm of the Huda New Selena palette.
A Palette Fit for a Star
The Huda New Selena palette is a makeup lover's dream, offering a wide range of shades and finishes to create stunning looks. With 105 shades in mattes, shimmers, pressed glitters, contour, blush, and highlight, this palette provides endless possibilities for self-expression and creativity. We take a closer look at the color selection and the versatility it offers to makeup enthusiasts of all skill levels.
According to Temptalia, a popular beauty blog, "The shimmers were a bit thicker and moderately emollient, and I liked them on their own but didn't feel like they always combined as well with the matte formula, which was thinner and lightly to moderately powdery." However, some users may prefer this contrast between the formulas and enjoy experimenting with different combinations. The palette also includes two cream-based shades that can be used as a base or as eyeliner for more definition and drama.
The Inspirational Power of Selena Quintanilla-Pérez
Selena Quintanilla-Pérez, known as the Queen of Tejano music, left an indelible mark on the music industry and continues to inspire millions worldwide. Discover how this palette pays homage to Selena's legacy, capturing her essence and empowering beauty enthusiasts to embrace their individuality. We explore the elements that make this palette a heartfelt tribute to Selena's iconic style and spirit.
The palette features shades named after some of Selena's songs, such as "Bidi Bidi Bom Bom", "Dreaming of You", and "Como La Flor". The colors also reflect Selena's vibrant personality and diverse influences, from her Mexican-American heritage to her love for fashion and glamour. The palette aims to celebrate what is rare and beautiful about each person, just as Selena did with her music and charisma.
The Brand Behind the Beauty
While the Huda New Selena palette may not be an official product of Huda Beauty, it has garnered attention as an affordable alternative. We shed light on Huda New Cosmetics, the brand responsible for creating this homage palette. Learn more about the brand's mission, their commitment to providing quality products at accessible prices, and how they capture the essence of popular beauty trends.
Huda New Cosmetics is a brand that offers makeup products inspired by Huda Beauty, one of the most successful beauty brands in the world. However, Huda New Cosmetics is not affiliated with Huda Beauty or its founder Huda Kattan. Instead, it is a homage brand that aims to provide similar products at lower prices for customers who may not be able to afford or access Huda Beauty products. The brand claims to use high-quality ingredients and follow strict quality standards to ensure customer satisfaction.
Tracking Down the Palette
For those eager to get their hands on the Huda New Selena palette, we explore its availability and where to find it. From online marketplaces like Poshmark to dedicated beauty boutiques, we uncover the various sources where this palette can be purchased. However, as with any sought-after product, we advise readers to exercise caution and ensure the credibility of sellers before making a purchase.
The palette is not available on Huda Beauty's official website or any of its authorized retailers. Instead, it can be found on some online platforms that sell makeup products from different brands. For example, Mia Fashion Boutique sells the palette for $45 USD plus shipping costs. Poshmark also has some listings for the palette ranging from $35 USD to $65 USD plus shipping costs. However, these platforms do not guarantee the authenticity or quality of the products, so buyers should be careful and check the reviews and ratings of the sellers before placing an order.
Pricing and Value
The Huda New Selena palette offers an enticing combination of quality and affordability. In this section, we break down the price ranges offered by different sellers and evaluate the overall value of the palette. By examining the cost in relation to the number of shades and the versatility it provides, we help readers determine whether this palette is a worthwhile addition to their makeup collection.
The palette costs around $45 USD on average, which is considerably cheaper than Huda Beauty's 18-pan palettes that retail for $67 USD. However, some reviewers have noted that the packaging of the palette is not very luxe or sturdy, and that it is made of cardboard. The palette also does not come with a mirror or a brush, which may be inconvenient for some users. On the other hand, the palette offers 105 shades in different formulas and finishes, which is more than most palettes on the market. The palette also has a thin and runny foundation formula that gives light to medium coverage with a natural finish, as well as a lightweight and brightening concealer that comes in 48 shades to match each foundation shade. These features may appeal to users who love a no-makeup makeup look or who want to have a variety of options for their complexion products.
Ultimately, the value of the palette depends on the personal preferences and expectations of each user. Some may find it worth splurging on for its extensive color selection and homage to Selena, while others may prefer to save up for a more luxurious or authentic product from Huda Beauty or another brand.
Conclusion
The Huda New Selena palette has become a symbol of beauty, inspiration, and homage to the legendary Selena Quintanilla-Pérez. With its extensive range of shades and finishes, makeup enthusiasts have a tool that enables them to unleash their creativity and pay tribute to an influential artist. As we conclude our exploration of this palette, we leave readers with an appreciation for the beauty industry's ability to merge artistry, inspiration, and individual expression in such captivating ways.