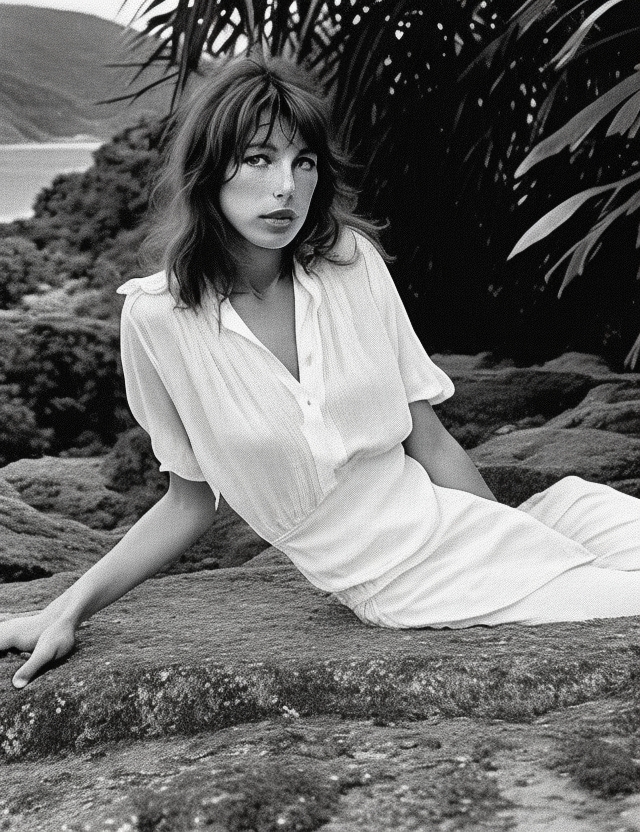 Jane Birkin is one of the most influential and controversial figures in the history of French music and cinema. She rose to fame in the 1960s and 1970s as the muse and partner of Serge Gainsbourg, with whom she recorded the notorious duet "Je t'aime... moi non plus". She also starred in several films by directors such as Michelangelo Antonioni, Jacques Rivette and Agnès Varda. Her style, voice and personality inspired generations of artists and fans around the world.
The Rise and Fall of a Musical Legend
Jane Birkin was born in London in 1946 to a British naval officer and an actress. She started her career as a model and actress in England, where she met her first husband, composer John Barry. They had a daughter, Kate, but divorced soon after. In 1968, she met Serge Gainsbourg on the set of the film Slogan, and they began a passionate and turbulent relationship that lasted until 1980. They had a daughter, Charlotte, who also became a singer and actress.
Birkin and Gainsbourg collaborated on many songs, albums and films, creating some of the most iconic and controversial works of French pop culture. Their song "Je t'aime... moi non plus", which featured Birkin's simulated orgasms, was banned in several countries for its explicit content. Their album Histoire de Melody Nelson, a concept album about a Lolita-like character, is considered a masterpiece of French pop music. Their film Je t'aime moi non plus, which they wrote, directed and starred in, was also censored for its graphic depiction of homosexuality and violence.
The Birkin Bag: A Fashion Statement
In addition to her musical and cinematic achievements, Birkin also became a fashion icon for her casual and bohemian style. She popularized the basket bag, the mini skirt, the t-shirt and jeans combo, and the fringed haircut. She also inspired one of the most famous and expensive handbags in the world: the Hermès Birkin bag.
The story goes that in 1981, Birkin was on a flight from Paris to London, sitting next to Jean-Louis Dumas, the chief executive of Hermès. She complained that she could not find a leather bag that suited her needs as a young mother. Dumas then sketched a design for her on an airplane sick bag, and later created a prototype for her. The bag was named after her, and became an instant hit among celebrities and fashionistas. The Birkin bag is now one of the most coveted items in the luxury market, with prices ranging from $6,000 to over $200,000.
The Struggle with Fame and Loss
Birkin's fame came at a price. She suffered from depression, anxiety and anorexia, and struggled with Gainsbourg's alcoholism, infidelity and jealousy. She also faced criticism from the public and the media for her unconventional lifestyle, her accent and her appearance. She once said: "I was hated in France. I was this English girl who took their national treasure away from them".
After her split from Gainsbourg, Birkin continued her musical and cinematic career, working with artists such as Jacques Doillon, Philippe Labro and Patrice Chéreau. She also had a son, Lou, with Doillon. She remained friends with Gainsbourg until his death in 1991, which devastated her. She said: "He was my love for 20 years. He gave me everything". She paid tribute to him by performing his songs in concerts and albums.
The Legacy of Serge Gainsbourg
Serge Gainsbourg is widely regarded as one of the most influential and innovative songwriters of the 20th century. He experimented with various genres, such as jazz, rock, reggae, funk, disco and rap. He also wrote songs for many other artists, such as Brigitte Bardot, Françoise Hardy, Juliette Gréco and Vanessa Paradis.
Gainsbourg's lyrics were often witty, provocative and poetic. He tackled themes such as love, sex, death, politics and religion. He also caused controversy with some of his songs, such as "Lemon Incest", a duet with his daughter Charlotte, and "Aux armes et caetera", a reggae version of the French national anthem. He was also known for his eccentric and rebellious personality, his sharp wit and his artistic collaborations.
Gainsbourg's influence can be seen in many contemporary artists, such as Beck, Air, Portishead, Lana Del Rey and Lorde. He has been honored with numerous awards, tributes and documentaries. His former home in Paris has become a shrine for his fans, who leave messages, flowers and graffiti on its walls.
Birkin also displayed her sensuality and daring in the films directed by Gainsbourg, such as Cannabis (1970), La Morte Negli Occhi Del Gatto (1973) and L'Animal (1977). In these films, she played roles that challenged the norms of sexuality, violence and morality. She often appeared nude or semi-nude, and engaged in explicit love scenes with her co-stars, such as Alain Delon, Gerard Depardieu and Jean-Paul Belmondo. These films were also controversial and sometimes poorly received by the critics and the public, but they showed Birkin's willingness to explore her artistic boundaries and to trust Gainsbourg's vision.
The Sensuality of Charlotte Gainsbourg
Birkin and Gainsbourg's daughter, Charlotte Gainsbourg, followed in their footsteps as a singer and an actress. She also inherited their penchant for sensuality and provocation in some of her films, such as The Cement Garden (1993), 21 Grams (2003), Antichrist (2009) and Nymphomaniac (2013). In these films, she played roles that explored themes of incest, grief, violence and sexuality. She often appeared nude or engaged in explicit love scenes with her co-stars, such as Andrew Robertson, Benicio Del Toro, Willem Dafoe and Shia LaBeouf. These films were also controversial and sometimes critically acclaimed, but they showed Gainsbourg's courage and versatility as an actress.
Source: Conversation with Bing, 7/16/2023 (1) Nymphomaniac (film) - Wikipedia. https://en.wikipedia.org/wiki/Nymphomaniac_%28film%29. (2) Charlotte Gainsbourg & Chloë Sevigny Star In A Sensual Saint Laurent Film. https://www.wmagazine.com/fashion/saint-laurent-french-water-film-chloe-sevigny-julianne-moore. (3) Sexy Films Streaming: Erotic
Dramas
to Watch - Variety. https://variety.com/lists/sexy-films-streaming/.
The Retreat from the Spotlight
In recent years, Birkin has become more reclusive and selective about her projects. She has focused on humanitarian causes, such as Amnesty International, AIDS research and refugees' rights. She has also faced several tragedies in her personal life, such as the death of her daughter Kate in 2013 from a fall out of a window, and her own health issues, such as leukemia and a stroke.
Birkin has said that she does not want to be remembered as a singer or an actress, but as a mother and a grandmother. She has four grandchildren from her daughters Charlotte and Lou. She lives in Paris, where she rarely makes public appearances. She has said: "I don't want to be famous anymore. I want to be happy".
The Final Farewell
On July 16, 2023, Birkin passed away at the age of 76 in Paris. The cause of her death was not disclosed, but it was reported that she had been ill for some time. Her family and friends issued a statement saying that she died peacefully surrounded by her loved ones.
Birkin's death sparked an outpouring of grief and admiration from fans, colleagues and celebrities around the world. Many praised her for her talent, beauty and courage, and thanked her for her contribution to music, cinema and culture. Her funeral was held in a private ceremony in Paris, attended by her family and close friends. She was buried next to Serge Gainsbourg in the Montparnasse Cemetery.