by Sherif M. Awad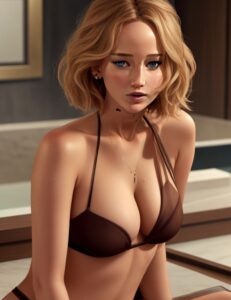 Jennifer Lawrence is one of the most successful and beloved actresses in Hollywood, and Cooke Maroney is a renowned art dealer who stole her heart. The couple got married in 2019 and recently attended the Causeway 2022 event, a charity gala for environmental causes. In this article, we will take a closer look at their relationship, from their beginnings to their present.
How Jennifer Lawrence Became a Star
Jennifer Lawrence was born in Louisville, Kentucky, in 1990. She started acting as a child, appearing in local theater productions and commercials. She moved to New York at the age of 14 to pursue her acting career, and landed her first major role in the TV series The Bill Engvall Show. She made her film debut in 2008 with Garden Party, and gained critical acclaim for her performance in Winter's Bone in 2010, which earned her an Oscar nomination for Best Actress.
She rose to fame with her role as Katniss Everdeen in The Hunger Games franchise, which became one of the highest-grossing film series of all time. She also starred in other successful films, such as Silver Linings Playbook, American Hustle, Joy, and Mother!, which showcased her versatility and talent. She won an Oscar for Best Actress for Silver Linings Playbook in 2013, and received three more nominations for American Hustle, Joy, and Winter's Bone. She also won three Golden Globe awards and many other accolades.
How Jennifer Lawrence Reacts to Paparazzi
Jennifer Lawrence is known for her down-to-earth and humorous personality, which often shines through in her interactions with the paparazzi. She is not afraid to make funny faces, fall down, photobomb other celebrities, or give candid interviews. She has also spoken out against the invasion of privacy and the unrealistic expectations that the media puts on female celebrities. She has said that she does not diet or exercise for roles, and that she loves eating pizza and drinking wine. She has also advocated for equal pay and representation for women in Hollywood.
How Jennifer Lawrence Met Cooke Maroney
Cooke Maroney is a New York-based art dealer who works as the director of Gladstone Gallery, a prestigious art gallery that represents artists such as Matthew Barney, Anish Kapoor, and Ugo Rondinone. He was born in Vermont in 1984, and studied art history at New York University. He is also an avid collector of art and antiques.
He met Jennifer Lawrence through a mutual friend, Laura Simpson, who is also Jennifer's best friend. They started dating in June 2018, and got engaged in February 2019. They tied the knot in October 2019 in a private ceremony at Belcourt of Newport, a historic mansion in Rhode Island. The wedding was attended by about 150 guests, including celebrities such as Emma Stone, Amy Schumer, Adele, Kris Jenner, Ashley Olsen, and Sienna Miller.
How Jennifer Lawrence and Cooke Maroney Celebrated Their Wedding
Jennifer Lawrence and Cooke Maroney had a lavish wedding that was reportedly inspired by nature and autumn colors. The bride wore a custom Dior gown that featured a plunging neckline and a long train. The groom wore a classic black tuxedo. The couple exchanged vows under a tent that was decorated with flowers and chandeliers.
The wedding menu was catered by Maine-based company Big Tree Hospitality, which specializes in local and organic food. The guests enjoyed a variety of dishes, such as smoked pork belly with pickled apple, salt cod beignets with malt vinegar aioli, wood-roasted fish with herbs and lemon-infused butter, and five-tiered carrot cake. The wedding also featured a food truck that served burgers and fries late at night.
How Jennifer Lawrence and Cooke Maroney Supported Causeway 2022
Jennifer Lawrence and Cooke Maroney made their first public appearance as a married couple at the Causeway 2022 event on December 11th, 2022. The event was a charity gala that raised funds and awareness for environmental causes, such as climate change, biodiversity, and conservation. The event was hosted by Leonardo DiCaprio and his foundation, and featured performances by Coldplay, Billie Eilish, and Lizzo.
Jennifer Lawrence and Cooke Maroney looked stunning and happy together at the event. They wore matching outfits that were both elegant and eco-friendly. Jennifer wore a green silk dress with a floral print and a slit, while Cooke wore a navy blue suit with a green tie. They showed their support for the cause by donating and bidding on items, such as artworks, experiences, and memorabilia.
Conclusion
Jennifer Lawrence and Cooke Maroney are truly a power couple who balance each other out and share a passion for making the world a better place. They have been married for over three years, and have shown their love and commitment to each other through thick and thin. They are also generous and compassionate, and use their influence and resources to support causes that they care about. What do you think of their relationship? Let us know in the comments below.