by Sherif M. Awad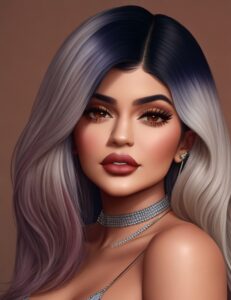 Introduction: The Journey of a Modern Icon
From reality television star to successful businesswoman, Kylie Jenner has captivated the world with her meteoric rise to fame. Born on August 10, 1997, in Los Angeles, California, Kylie Jenner is the youngest of the Jenner-Kardashian clan. She is best known for her role in the reality TV series "Keeping Up with the Kardashians," but her influence extends far beyond the small screen. In this article, we will delve into Kylie Jenner's remarkable career, explore her entrepreneurial ventures, dive into her dating life, marvel at her handbag collection, and discover why she reigns as the queen of TikTok.
Section 1: Kylie Jenner's Cosmetics Empire
One of Kylie Jenner's most notable achievements is her cosmetics empire, which propelled her to become the youngest self-made billionaire according to Forbes. Here are the key points about her thriving business:
1. The Birth of Kylie Cosmetics
Kylie Jenner launched her cosmetics company, Kylie Cosmetics, in 2015 with the release of her signature product, the Kylie Lip Kit.
The lip kits, featuring lip liners and liquid lipsticks, sold out within minutes of their initial release, creating a massive buzz and demand for her products.
Kylie's online presence and massive social media following played a pivotal role in the success of her cosmetics brand, as she promoted her products to millions of eager fans.
2. Expansion and Collaborations
Kylie Cosmetics expanded beyond lip products to include a wide range of makeup items such as eyeshadow palettes, highlighters, and blushes.
Kylie collaborated with renowned makeup artists and celebrities, creating limited-edition collections that quickly sold out.
Her collaborations with sisters Kim Kardashian and Khloé Kardashian further solidified her brand's popularity and reach.
3. Rebranding as Kylie Beauty
In 2021, Kylie Jenner rebranded her cosmetics company as Kylie Beauty, giving it a fresh look and expanding the product line to include skincare items.
The rebranding showcased Kylie's commitment to continuous growth and innovation in the beauty industry.
Kylie Beauty products continue to be highly sought after, with each new launch causing a frenzy among makeup enthusiasts.
Section 2: Kylie Jenner's Dating Life: The Buzz Around Her Relationships
Aside from her career, Kylie Jenner's dating life has always garnered attention from the media and her fans. Let's take a look at some of her high-profile relationships:
1. Tyga: The Young Love
Kylie Jenner's relationship with rapper Tyga was highly publicized, with the couple dating on and off for several years.
Their relationship began when Kylie was just 17 years old, leading to controversy and scrutiny due to the age difference.
Although the couple eventually parted ways, their romance remained a topic of interest for fans and the media.
2. Travis Scott: A Whirlwind Romance
Kylie Jenner's relationship with rapper Travis Scott captured the public's attention, and they soon became one of the most talked-about couples in the entertainment industry.
They welcomed their daughter, Stormi Webster, in February 2018, and despite their subsequent separation, they continue to co-parent and maintain a friendly relationship.
Both Kylie and Travis have expressed their love and dedication to their daughter, prioritizing her well-being above all else.
3. Other Rumored Relationships
Kylie Jenner has been linked to various celebrities, leading to speculation and rumors about her dating life.
While some of these relationships were confirmed, others remained speculation, keeping fans intrigued and curious about her romantic endeavors.
Kylie has always maintained a level of privacy regarding her personal life, leaving fans eager to uncover any details about her current relationships.
Section 3: The Coveted Handbag Collection of Kylie Jenner
Kylie Jenner's passion for fashion extends beyond makeup. She is renowned for her impressive handbag collection, which features luxurious and sought-after designer pieces. Here's what you need to know about her enviable collection:
1. Birkin Obsession
Kylie is famously obsessed with Hermès Birkin bags, known for their exclusivity and hefty price tags.
Her collection boasts an array of Birkin bags in different colors, sizes, and materials, showcasing her exquisite taste in fashion.
Kylie's love for Birkin bags has sparked a trend among her fans, with many aspiring to own their own piece of luxury.
2. Other Designer Favorites
In addition to Birkin bags, Kylie also owns handbags from other renowned designer brands like Chanel, Dior, and Louis Vuitton.
Her collection includes iconic pieces such as the Chanel Boy Bag, Dior Saddle Bag, and Louis Vuitton Neverfull, cementing her status as a fashion influencer.
Kylie's handbag choices often make headlines, and her collection continues to grow, showcasing her evolving style and fashion sensibility.
3. Displaying Fashion on Social Media
Kylie frequently showcases her handbag collection on social media, giving fans a glimpse into her enviable closet.
Her fashion posts serve as inspiration for many, as they provide a glimpse into the world of high-end fashion and luxury accessories.
Kylie's ability to effortlessly style her handbags with various outfits further cements her status as a style icon.
Section 4: Reigning as the Queen of TikTok
With her massive following on social media, Kylie Jenner has established herself as the queen of TikTok, captivating audiences with her engaging and entertaining content. Here's why she rules the TikTok realm:
1. Behind-the-Scenes Glimpses
Kylie shares exclusive behind-the-scenes glimpses into her life through TikTok videos, providing fans with a more personal and intimate look into her daily routines and activities.
Her TikTok content includes makeup tutorials, fashion hauls, and funny challenges, allowing fans to connect with her on a more relatable level.
Kylie's charismatic presence and engaging content have garnered her millions of followers on the platform.
2. Collaborations and Challenges
Kylie has collaborated with popular TikTok creators, participating in challenges and duets, which amplifies her reach and exposure on the platform.
These collaborations not only showcase her fun and playful side but also help her connect with a younger demographic of TikTok users.
Kylie's participation in trending challenges further solidifies her influence and relevance in the ever-evolving world of social media.
3. Influencing Fashion and Beauty Trends
As a style icon and beauty mogul, Kylie's TikTok presence has a significant impact on fashion and beauty trends.
Her makeup routines, outfit ideas, and hairstyle experiments inspire countless TikTok users, who try to emulate her looks and incorporate her style into their own lives.
Kylie's influence extends beyond her cosmetics brand, as she continues to shape trends and set new standards for fashion and beauty on the platform.
Conclusion
Kylie Jenner's journey from reality TV star to influential businesswoman has captivated the world. With her thriving cosmetics empire, high-profile relationships, enviable handbag collection, and TikTok reign, she continues to dominate headlines and inspire millions. Kylie's entrepreneurial spirit, fashion-forward choices, and relatable social media presence have solidified her status as a modern icon. As she continues to evolve and conquer new territories, the world eagerly awaits the next chapter of Kylie Jenner's remarkable journey.
Frequently Asked Questions
Q: How did Kylie Jenner start her cosmetics empire?
A: Kylie Jenner launched her cosmetics company, Kylie Cosmetics, in 2015 with the release of her signature product, the Kylie Lip Kit. The lip kits quickly gained popularity, selling out within minutes and paving the way for the success of her cosmetics empire.
Q: Who has Kylie Jenner dated?
A: Kylie Jenner has been in high-profile relationships with rapper Tyga and rapper Travis Scott. While she has been linked to other celebrities, these two relationships garnered the most attention from the media and her fans.
Q: What is Kylie Jenner known for on TikTok?
A: Kylie Jenner is known for her engaging TikTok content, which includes behind-the-scenes glimpses into her life, collaborations with popular creators, and influencing fashion and beauty trends. Her charismatic presence and relatable content have earned her a massive following on the platform.