by Sherif Awad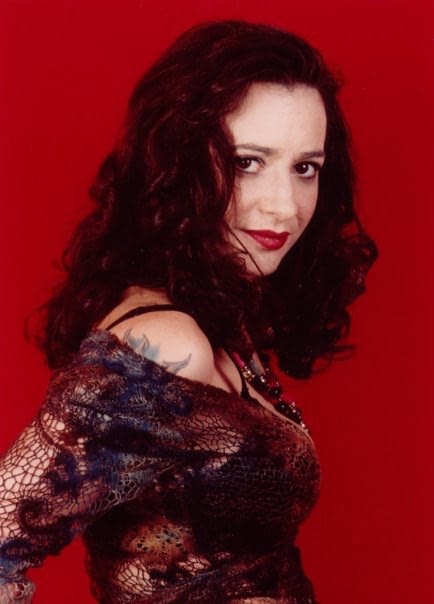 This is artist Diddy Wheldon from the UK.
-I have travelled many places in the world and have been in magazines, newspaper's, on the television in Film, on the radio worldwide, and I have had many interviews regards the work I have done long before the internet came to be such a popular and far-reaching network. So initially it was a bit of a whirlwind realising how many people had actually heard of me, or had seen my work, it was to be honest quite overwhelming and it took a while to fully accept this on my part. I was so unaware of how far my acting, modelling, music and art had reached. I remember there was a specific period of time when I received so many amazing emails, and comments, it made me feel very happy that I had made so many other people happy, that part of my life was very satisfying and I did feel at that point that I had achieved something special. However, I don't really strive for stardom, I do strive to be a better person in life, as I can always see room for improvement, I am very critical of myself at times, and I am always striving to just be better at what I do. In this respect I do definitely strive for success. I think this is far more important than stardom.
-Are there challenges related to gender in relation to your profession that you face now?
-According to you, describe the current situation of the creativity industry in your country?
-For new offers: I am very open to reading new scripts and I have a big pile of them at home that I have been sent over the years. For me the quality of the script is very important, there has to be a good string story, strong believable characters that have depth and purpose, there are some subject matters that I do feel very uncomfortable with and that I do completely steer away from. I do like comedy though and I strive to do more comedy. True stories I find griping and that too is something that I would like to do more of in the future.
-Parallel to the arts, I do love the outdoors, Horse riding, Camping, Yoga, boxing and dance are some of the things that I like to go to when I want to relax and unwind or just have some fun or me time. I have always been interested in Metaphysics and technology so about 4/5 years ago now I was researching and sought out the creator of the Bitcoin Blockchain, Dr Craig S Wright, who I have been leaning from ever since, he is a true inspiration and he actually inspired me to do a Degree, Masters and Phd in Metaphysics, which I started just before lockdown. I am now currently 2/3 of the way through my Masters. I am yet to start course's in BSV Blockchain with the Bitcoin Association based in Switzerland as I find the technology fascinating.
-For newcomers, I say, if you are new to the Industry, it can be quite daunting, but the advice I have is never give up, your dreams are yours alone and they can be achieved, I have proved this over and over to myself that in the right frame of mind and with positivity you can manifest your desires, it is that old adage of practice makes perfect. With characters the more you know the character the better you will be as that character, do not let people be negative about your career choices, you can have a beautiful life in this industry if you choose to view everything as a learning experience and an achievement and not as a failure, if someone knocks you down, get back up again and keep going, and never give up on yourself or your dreams, because you have the power within you to make them a reality!