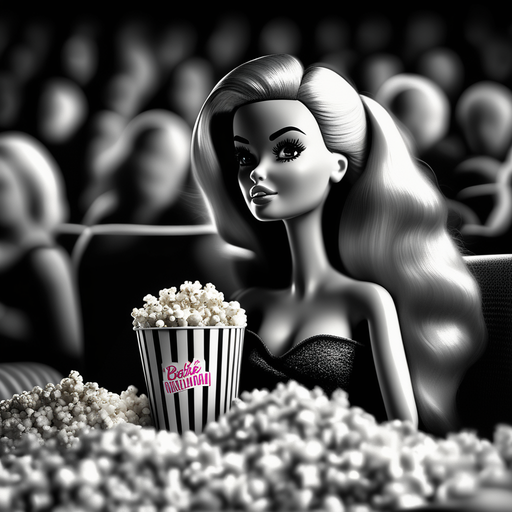 Barbie is one of the most iconic and influential toys in history, with over 200 careers, countless outfits, and millions of fans around the world. But despite her popularity and cultural impact, Barbie has had a long and difficult journey to the big screen. In this article, we will explore how Barbie went from being an animated star to a live-action heroine, and what challenges and opportunities she faced along the way.
The Animated Era
Barbie's first foray into the world of movies was in 2001, when she starred in Barbie in the Nutcracker, a direct-to-video adaptation of the classic ballet. The movie was a success, and it spawned a series of animated movies and TV specials that featured Barbie as various fairy tale characters, princesses, mermaids, fairies, and more. Some of the most popular or notable titles include Barbie as Rapunzel, Barbie: Fairytopia, Barbie and the Diamond Castle, and Barbie: A Fashion Fairytale.
These movies were distributed by different studios, such as Lionsgate, Universal, and Sony, and aired on Nickelodeon. They were aimed at young girls and families, and they often had positive messages about friendship, courage, and self-esteem. They also showcased Barbie's diverse range of interests and talents, such as dancing, singing, painting, and designing. The movies were generally well-received by critics and audiences alike, and they established Barbie as a successful animated star.
The Live-Action Struggle
However, Barbie's transition to live-action was not as smooth as her animated career. The idea of a live-action Barbie movie had been in development since 2009, but it faced many challenges and obstacles along the way. One of the main issues was finding the right actor and director for the movie, as well as a suitable story and tone that would appeal to both fans and newcomers.
Some of the previous actors and directors who were attached or considered for the movie include Amy Schumer, Anne Hathaway, Diablo Cody, Patty Jenkins, Olivia Wilde, and Noah Baumbach. However, none of them stayed on board for various reasons, such as creative differences, scheduling conflicts, or public backlash. Another issue was that Mattel, the company that owns Barbie, was very protective of its brand and image, and wanted to ensure that the movie would not tarnish or undermine its values or reputation.
As a result, the live-action Barbie movie project was stuck in development hell for over a decade, with no clear vision or direction. Many people wondered if the movie would ever see the light of day, or if it was even necessary or relevant in today's society.
The Current Version
However, things changed in 2019 when Mattel formed its own film division and partnered with Warner Bros. to produce the live-action Barbie movie. The movie was finally greenlit with Greta Gerwig as the director and co-writer, and Margot Robbie as the star and producer. Gerwig is known for her acclaimed films Lady Bird and Little Women, while Robbie is known for her roles in The Wolf of Wall Street, Suicide Squad, and I,Tonya.
The current version of the live-action Barbie movie is said to be a comedy that subverts the expectations and stereotypes associated with Barbie. It features multiple versions of Barbie and Ken living in different worlds, such as Malibu, Dreamhouse, Fashionista, etc. The movie also has an impressive cast of supporting actors, such as Ryan Gosling as Ken #1 (the original Ken), Issa Rae as Ken #2 (the new Ken), Kate McKinnon as Skipper (Barbie's sister), Lizzo as Chelsea (Barbie's friend), Billy Porter as Fairy Godmother (Barbie's mentor), etc.
The movie is scheduled to be released on March 3rd 2023 ,and it has generated a lot of anticipation and curiosity among fans and critics alike. Many people are eager to see how Gerwig and Robbie will reinvent Barbie for a modern audience ,and how they will balance humor ,heart ,and empowerment in their story.
Barbie's Influence on Pop Culture
Barbie is more than a doll. She is a part of pop culture. Over the past six decades, Barbie's status as a reflection of the times has made her a cultural icon. No matter where you go, everyone has a Barbie story.
Barbie has influenced fashion, music, art, media, and social movements. She has been featured in magazines, books, comics, video games, and songs. She has inspired celebrities, designers, artists, and activists. She has been a subject of debate, controversy, parody, and admiration.
One of the most famous examples of Barbie's influence on pop culture is the song "I'm a Barbie Girl" by the Danish-Norwegian group Aqua. The song was released in 1997 and became a worldwide hit. It was a catchy and ironic tune that played with the stereotypes and clichés associated with Barbie. The song was also the center of a lawsuit between Mattel and Aqua's record label, MCA Records. Mattel claimed that the song violated its trademark and damaged its reputation. MCA Records argued that the song was a parody and protected by free speech. The case was eventually dismissed by the court, which ruled that "the parties are advised to chill."
Another example of Barbie's influence on pop culture is the Barbie Fashion Show that was held in New York in 2009 to celebrate Barbie's 50th anniversary. The show featured 50 designs by famous designers such as Vera Wang, Diane von Furstenberg, Calvin Klein, and Alexander Wang. The show was a tribute to Barbie's role as a fashion icon and a trendsetter. The show also reflected pop culture and socio-political developments. Barbie's outfits ranged from classic to contemporary, from glamorous to edgy, from conservative to provocative.
Barbie has also influenced pop culture by being a role model and a source of empowerment for many girls and women. Barbie has shown that girls can be anything they want to be, from astronauts to doctors to presidents. Barbie has also challenged gender norms and stereotypes by being independent, adventurous, and ambitious. Barbie has also embraced diversity and inclusion by representing different ethnicities, cultures, body types, and abilities.
Conclusion
In conclusion ,Barbie has had a remarkable journey from being a toy to being a movie star. She has overcome many challenges and obstacles ,and she has evolved and adapted to the changing times and tastes. She has also inspired and entertained millions of people around the world with her diverse and positive portrayals. The live-action Barbie movie is the culmination of her long and hard work ,and it promises to be a fun and entertaining.