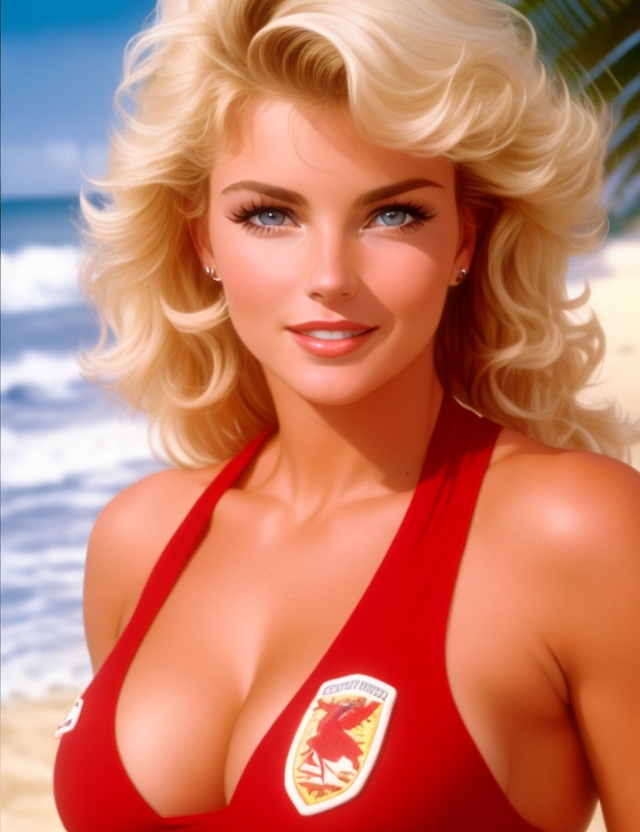 The 1990s were full of iconic moments and sex symbols, from the OJ Simpson trial to Pamela Anderson running down the beach in her high-cut red swimsuit. One of the decade's most unforgettable blonde bombshells was Erika Eleniak, who shot to fame on Baywatch before baring it all for Playboy. After a few dynamic film roles, Erika's star power faded, but her place in pop culture history was cemented. Join us on a journey through Erika's life and career!
Early Life and Career
Before she was a household name, Erika Eleniak grew up in Glendale, California. She began acting and modeling as a child. Some of her early credits include roles on popular 80s shows like Charles in Charge, Who's the Boss, and Growing Pains.
Erika's girl-next-door charm and voluptuous figure soon caught the eyes of casting directors. In the late 80s, she got her big break being cast as Shauni McClain on the hit series Baywatch. Little did she know this red swimsuit-clad role would make her an international star!
Getting Her Big Break on Baywatch
Debuting in 1989, Baywatch was about elite lifeguards in Los Angeles with drama, action, and more slow-motion running than you could imagine. Erika Eleniak became part of the main cast during the show's second season playing Shauni McClain, a tough tomboy lifeguard. Here are some juicy details on her time in that iconic red swimsuit:
Erika initially tried out for another role on the show but producers liked her so much they created Shauni specifically for her.
Viewers tuned in weekly to see Erika running down the beach with her blonde hair flowing in the wind.
She had sizzling on-screen chemistry and a romance storyline with co-star Billy Warlock.
Erika's Shauni was in the show for 4 seasons and over 100 episodes.
She left Baywatch at the peak of its popularity to pursue a film career.
On a series loaded with sexy female lifeguards like Pamela Anderson and Yasmine Bleeth, Erika stood out as the athletic girl next door. Shauni was kindhearted but tough enough to hold her own during ocean rescues. Erika later said the red swimsuit was difficult to wear for the long shooting days in the sun.
Becoming a Playboy Playmate
Capitalizing on her sexy Baywatch fame, Erika decided to bare it all as a Playboy model. She first appeared as Playmate of the Month for the July 1989 issue, which coincided with her debut on the show. Erika was over the moon excited about the opportunity to model nude for Hugh Hefner's legendary men's magazine:
The Playboy issue featuring Erika sold over 4 million copies.
Her centerfold showed her frolicking in the waves wearing nothing but a red lifeguard float.
Erika would go on to pose for various Playboy pictorials and calendars into the 90s.
She became one of the most popular Playmates of the decade.
Her voluptuous figure and natural charm shined whether she was nude or clothed.
While Erika hoped the Playboy spreads would help launch her into an acting career, they also cemented her image as a sex symbol. She tried to balance this by portraying a feminist marine in her breakout film role.
Transition to Movie Acting
Erika's most high-profile acting gig after leaving Baywatch was 1992's Under Siege. The action flick starred Steven Seagal as a ship's cook who must stop terrorists. Erika played Jordan Tate, a Playboy Playmate-turned-CIA operative. Let's go behind the scenes of her first major film:
Erika performed many of her own stunts like martial arts fight sequences.
Critics praised her tough, feminist character who could battle the bad guys.
She had on-screen chemistry and a love scene with leading man Seagal.
Under Siege was a box office success and Erika won a MTV Movie Award.
But despite the breakout role, bigger acting jobs failed to materialize.
While Under Siege showed Erika's potential as an action star, she struggled to escape being typecast as just a sexy bombshell. She appeared in some made-for-TV movies and had bit parts in films like The Beverly Hillbillies and Bordello of Blood. But major movie stardom eluded her.
Personal Life
In her Baywatch heyday, Erika enjoyed the Hollywood party scene with other young stars like Leonardo DiCaprio. She also got engaged to fellow actor Philip McKeon but they called off the wedding.
Erika dated a businessman named Chippendales for several years. In 1996 they had a daughter named Greta. Motherhood changed Erika's priorities and she stepped back from acting to focus on raising her child.
Beyond parenting, Erika has said she leads a low-key lifestyle out of the public eye. While no longer a household name, she'll always be remembered for her beauty and charm lighting up the screen during her Baywatch days.
Where is Erika Eleniak Now?
So where is that red swimsuit-wearing blonde bombshell today? While Erika Eleniak stepped away from Hollywood years ago, fans still wonder what she's up to now:
Makes rare appearances at 90s nostalgia conventions to engage with loyal fans.
Had a cameo role in 2017's Baywatch movie remake.
Focused on raising daughter Greta, who is now in her 20s.
Rumored to be writing a book about her life and career.
Earned new young fans by joining Instagram in 2018.
While not actively acting, she'll always be remembered as a Baywatch icon.
Erika maintains a low profile compared to the megastar status she had in the 90s. But she seems content living a quiet life focused on family. She's occasionally spotted around her neighborhood north of Los Angeles.
Erika Eleniak's Legacy Lives On
While acting fame can be fleeting, icons like Erika Eleniak remain embedded in pop culture history. Her red swimsuit poster was on the wall of many pre-teens back in the day! While paparazzi may not follow her anymore, Erika made her mark in entertainment through Baywatch and Playboy. She paved the way for future bombshells like Pamela Anderson. Erika proved you can use your looks to get ahead while still having talent and smarts. Girl power! So let's fondly remember the busty blonde who ran down the beach into our hearts.
Behind the Scenes on Baywatch
Being on a hit show like Baywatch came with its challenges and rewards. Here's a glimpse at Erika's experiences behind the scenes:
The cast had grueling schedules filming outdoors in the California heat.
Running in slow motion could be tiring and require multiple takes.
Erika performed some of her own water rescues and stunts.
She became close friends with co-stars like Pamela Anderson.
The cast was like a family and would have barbecues or go out together.
Erika felt fulfilled helping inspire women's self-confidence.
While the days were long, Erika appreciated the once-in-a-lifetime opportunity. She remains friends with some Baywatch castmates like David Hasselhoff today.
Dealing with Fame
Rapidly achieving sex symbol status in her early 20s took adjustment. Erika has been open about both the rewards and challenges of fame:
Felt proud of her success after years trying to break through as an actress.
Enjoyed some celebrity perks like attending Hollywood parties and events.
Found constant media scrutiny and paparazzi intrusive at times.
Felt pressure to live up an image that didn't reflect her real self.
Prioritized surrounding herself with true friends and family.
While Erika embraced the chance to inspire people through roles, she didn't let fame completely change her. She focused on staying grounded.
90s Nostalgia
Erika Eleniak perfectly encapsulates the carefree, sexy vibe of the 1990s. Here are some reasons she's an icon of the decade:
Her beachy blonde looks inspired the "California girl" look.
She has an aura of wholesome innocence mixed with sex appeal.
Erika embodies the fun, outrageous fashions and trends of the 90s.
Her red swimsuit on Baywatch became instantly iconic.
She's a reminder of more lighthearted pop culture before the internet.
Millennials feel nostalgia for Erika as she brings back memories of watching Baywatch and sneaking peeks at Playboy magazines. Her legacy lives on through 90s revival fashion and TV reunions!
Erika's Impact on Pop Culture
Beyond just being a sex symbol, Erika Eleniak made some lasting contributions to entertainment:
Helped prove beautiful blondes could also be smart and tough.
Paved the way for future Baywatch stars like Pamela Anderson.
Showed the power of using sex appeal to advance your career on your own terms.
Inspired women to embrace their bodies and sensuality.
Showcased that Playmates can be multidimensional people.
Erika broke barriers by owning her sexuality while playing feminist, empowered characters. She left behind an influential pop culture legacy!
Here is more content to continue expanding the Erika Eleniak article:
Erika's Acting Skills
While known for her looks, Erika also possessed real acting talent. Here are some of her skills that shined both on Baywatch and in films:
Had natural comedic timing and charm that made her roles memorable.
Was able to portray a smart, feminist action hero in Under Siege.
Had great on-screen chemistry with leading men like David Hasselhoff and Steven Seagal.
Showcased emotional range from lighthearted to intense scenes.
Impressed critics with her ability to do her own stunts and fight sequences.
If not typecast as just a bombshell, Erika may have gotten more chances to highlight her acting abilities. She made the most of roles that came her way.
How Baywatch Changed Her Life
Getting cast on Baywatch completely transformed Erika's career and life. Here are some of the ways the show impacted her:
Went from a working actress to global sex symbol literally overnight.
Gave her the platform to land spreads in Playboy and Esquire.
Enabled her to transition into film roles like Under Siege.
Brought fame and Hollywood opportunities she only dreamed of before.
Also felt pressure to live up to an unrealistic "California girl" image.
While playing Shauni supercharged her career, Erika has said it took time to adjust to the sudden level of stardom. But she's grateful for the experiences Baywatch provided.
Erika's Hobbies and Interests
When not acting or modeling, Erika enjoyed activities like:
Jet skiing and boating
Playing video games
Reading books and watching movies
Spending time with her pets
Cooking and baking
Doing yoga and meditation
Visiting museums and cultural sites when traveling
Erika appreciated the chance to chill out with more low-key hobbies, especially as she got older. They provided balance from more glamorous Hollywood activities.
Erika's Inspirations
From a young age, Erika admired strong, pioneering women like:
Lucille Ball
Goldie Hawn
Michelle Pfeiffer
Sharon Stone
Sigourney Weaver
Seeing actresses who could be beautiful, funny, and command the screen motivated Erika in her own career. She hoped to inspire fans the way her own role models uplifted her.
Frequently Asked Questions
Why did Erika leave Baywatch?
Erika left Baywatch at the peak of its popularity after 4 seasons. She wanted to transition into more serious film acting roles.
What was Erika's most famous movie role?
Erika's most well-known movie role was in the 1992 action flick Under Siege opposite Steven Seagal.
Is Erika Eleniak married?
No, Erika has never been married. She was briefly engaged to actor Philip McKeon in the 1990s. Erika has one daughter from a previous long-term relationship.
How old was Erika on Baywatch?
Erika was around 20 years old when she joined Baywatch in 1989. She was born in 1970.
Why did Erika pose for Playboy?
Erika posed nude for Playboy at the height of her fame to further promote herself and capitalize on being a sex symbol. The exposure helped raise her profile.