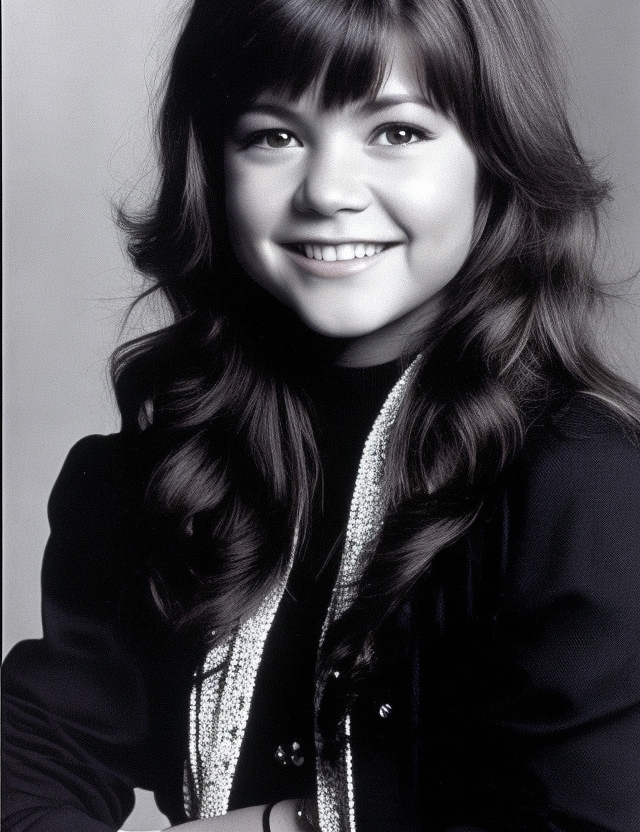 Valerie Bertinelli has captivated audiences for over five decades, endearing herself as America's sweetheart with her girl-next-door charm. Though she continues to star in hit TV series today, her rise to fame began at the tender age of 15 when she landed the role of Barbara Cooper on One Day at a Time in 1975. This launched little-known Bertinelli into stardom and introduced her to the nation.
In this blog, we'll explore Valerie Bertinelli's early journey to fame, from her childhood and discovery as a young talent to her breakthrough role that made Bertinelli a household name. We'll also look at how she navigated young adulthood in the limelight while building an acting career that has endured over generations.
Early Life in Delaware: Developing a Passion for Performing
Valerie Bertinelli was born in Wilmington, Delaware in April 1960. Her father was a General Motors executive and her mother was a homemaker who instilled a love for cooking in Bertinelli from an early age. She grew up in the community of Claymont with her brother Patrick and showed a passion for performing as a child.
Though shy, Bertinelli started taking acting lessons at age 12. This allowed her to come out of her shell as she began appearing in local theater productions as a teenager. Bitten by the acting bug, 15-year-old Bertinelli took a big leap by moving to Los Angeles in 1975 to pursue a professional acting career.
First Roles on the Path to Fame
The move to LA allowed Bertinelli to actively audition and she soon landed small guest roles on shows like Starsky & Hutch. But she was still unknown to the general public. That changed in 1975 when she was cast as Barbara Cooper in Norman Lear's new sitcom One Day at a Time, starring veteran actress Bonnie Franklin.
Bertinelli's natural likeability made her perfect as the wholesome, all-American teenage daughter in the family comedy. And America fell in love with her charm week after week for 9 seasons until the show ended in 1984.
Rocketed to Fame Playing "America's Sweetheart"
One Day at a Time became a massive hit and turned Bertinelli into a famous teenage actor. She won over audiences each week as the loving daughter Barbara. Off-screen, the young star maintained a down-to-earth attitude, focusing on schoolwork and friendships despite her newfound celebrity status.
In 1981, 20-year-old Bertinelli had a highly-publicized wedding with rockstar Eddie Van Halen, drawing international attention. But she continued balancing her acting work while adjusting to married life in the spotlight.
Matured in the Limelight Into Adulthood
As the series entered later seasons, Valerie Bertinelli gracefully matured on camera from a teenage daughter into a wise, working woman. She negotiated her early 20s and coming of age while growing up in front of millions.
When One Day at a Time ended in 1984, Bertinelli was praised for portraying Barbara Cooper believably and affectionately for nearly a decade. Though the show made Bertinelli a star at 15, she evolved skillfully into adult acting roles.
Maintaining a Long Career Over Generations
Bertinelli went on to star in many TV movies in the '80s and '90s. She also appeared on other hit shows like Hot in Cleveland (2010-2015). And she continues acting today in series like Kids Baking Championship.
In her 50s, Bertinelli branched out creatively. She launched a popular cooking and lifestyle brand and wrote candid memoirs about her life.
Through it all, the charm and humor Bertinelli displayed early in her career persists. She is still beloved by loyal fans who have grown up watching her on screen for decades.
From Small Roles to Timeless Fame
Valerie Bertinelli has captivated the public from her big breakout over 45 years ago until today. Though discovering her talent young, her skillful acting abilities and magnetism evolved with time. The girl-next-door who won over America in the 1970s became a versatile talent leaving an indelible mark in TV history.
Bertinelli's long-held status as a celebrity proves that her early fame was more than fleeting stardom. It reflects an enduring quality that has made Valerie Bertinelli a household name across generations.
Early Life Details
Though Valerie Bertinelli took quickly to acting, her early life in Delaware was relatively normal. She was raised in the suburban community of Claymont along with her brother Patrick, who would later become a successful businessman.
As a child, Bertinelli was quiet and introverted. But she was able to express herself creatively through acting. Her mother, a homemaker, imparted a love of cooking and inspired Bertinelli's later culinary ventures. Her father worked as an executive for General Motors.
Bertinelli took acting lessons at a local theater starting at age 12. This allowed the shy girl to break out of her shell. By age 15, she had starred in various local musicals and plays. But the teenage Bertinelli set her sights on Hollywood and left her hometown behind.
Navigating Young Stardom
Valerie Bertinelli had to grow up quickly when she was cast in One Day at a Time at 15. Though thrilling, the experience was not without challenges.
The instant fame led to more mature responsibilities. Bertinelli had to balance schoolwork with long hours on set. And she was recognized everywhere she went even as a teenager.
But Bertinelli handled the pressures with grace, even when marrying rockstar Eddie Van Halen at just 20 years old. She maintained a level head through the whirlwind of publicity.
Later in life, Bertinelli opened up about the difficulties of gaining fame so young. But she was grounded by her family and network of support.
Branching Out After Sitcom Success
Though Valerie Bertinelli will always be remembered for One Day at a Time, she went on to varied acting roles and projects after the sitcom ended in 1984.
She continued acting in TV movies and made-for-TV films through the 80s and 90s. Some notable roles included playing Steven Spielberg's mother in Class Act and acting alongside Clark Gable III in Sweet Surrender.
Bertinelli also appeared on other hit shows in the 2000s like Touched by an Angel, Hot in Cleveland, and The Middle. She published memoirs in 2008 and 2014 about her life, relationships, and struggle with weight loss.
And Bertinelli launched her popular cooking and lifestyle brand in 2015, returning to her early passion for food inspired by her mother.
Legacy on Future Generations
After enthralling TV audiences in the 70s and 80s, Valerie Bertinelli continues inspiring new generations of fans.
Many millennials and Gen Zers have discovered One Day at a Time through reruns and streaming. They've fallen in love with Bertinelli's talent and wholesome character.
Younger fans are also drawn to Bertinelli's later roles and accessibility via social media. She maintains a strong connection with her audience.
Valerie Bertinelli's contributions span eras and genres. As she continues bringing warmth into people's homes today, her enduring appeal is sure to reach future generations as well.