by Sherif M. Awad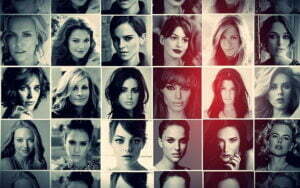 Introduction
Have you ever wondered how much your favorite female celebrities are worth? Whether they are famous for their singing, acting or modeling careers, these women have achieved immense success and earned a fortune along the way. In this post, we will take a closer look at the net worth of some of the most famous contemporary singers, actresses, and supermodels worldwide, as well as the factors that affect their wealth.Net worth is a commonly used metric to measure the financial success of celebrities, including singers, actresses, and supermodels. It takes into account all their assets, including their income, investments, properties, and other ventures. However, it's worth noting that net worth can fluctuate over time due to various factors, such as market changes, business decisions, and even personal issues. Gossip and personal news can also have an impact on a celebrity's reputation and earning potential, which can ultimately affect their net worth. Nonetheless, these successful female celebrities have managed to build incredibly impressive fortunes through their talent, hard work, and smart financial decisions. Net worth can also play a significant role in the entertainment industry beyond just measuring financial success. Casting directors may consider a celebrity's net worth when deciding who to cast in a project, as actors with higher net worths may have more bargaining power and be able to command larger salaries. Similarly, musicians with high net worths may have more resources to invest in their music and marketing campaigns, potentially leading to greater success in album sales and tours. However, it is important to note that some audiences may be influenced by celebrity gossip, personal scandals, or social media presence when making decisions about which movies to watch or music to listen to. Additionally, the proliferation of paparazzi and the increasing use of social networks to promote and sell art creations have created new opportunities for celebrities to reach and influence their fans, potentially impacting their net worth and overall success.
Contemporary Singers and Their Net Worth
Female singers have been dominating the music industry for years, with their catchy tunes and powerful voices captivating audiences worldwide. Let's take a look at some of the most successful contemporary singers and their estimated net worth:
Beyonce: With a net worth of $500 million, Beyonce is one of the richest female singers in the world. She has earned her wealth through various sources, including her music sales, tours, endorsements, and businesses such as her clothing line and music streaming service.
Taylor Swift: Taylor Swift has an estimated net worth of $365 million. She has earned her wealth through her music sales, concert tours, brand endorsements, and investments in real estate and other ventures.
Rihanna: Rihanna's net worth is estimated to be $600 million, making her one of the wealthiest female celebrities out there. In addition to her music, she has built a successful fashion empire, including her Fenty Beauty makeup line and Savage X Fenty lingerie collection.
Ariana Grande: Ariana Grande has a net worth of approximately $180 million. She earns from her music career, merchandise sales, endorsements, and social media campaigns.
Lady Gaga: Lady Gaga has an estimated net worth of $320 million, which comes from her successful music career, acting roles, fashion ventures, and philanthropic efforts.
Actresses and Their Net Worth
Actresses have been entertaining us for years, bringing their talent and charisma to the big screen. Let's take a look at some of the most successful actresses and their estimated net worth:
Scarlett Johansson: Scarlett Johansson's net worth is estimated to be $165 million, making her one of the richest actresses in Hollywood. She has earned her wealth through her acting roles, brand endorsements, production company, and other investments.
Angelina Jolie: Angelina Jolie has an estimated net worth of $120 million, which comes from her successful acting career as well as her business ventures, including her skincare line and humanitarian work.
Jennifer Aniston: Jennifer Aniston's net worth is estimated to be $300 million, with her acting career being the primary source of income. She also earns from her production company, brand endorsements, and personal investments.
Reese Witherspoon: Reese Witherspoon has an estimated net worth of $240 million, with her career spanning over three decades in the entertainment industry