by Sherif M. Awad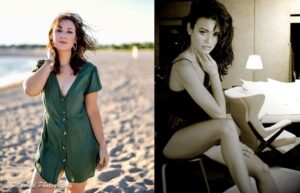 Penelope Lagos is a multi-talented artist and entrepreneur who has made a name for herself in various industries. She is an actress, model, author, and now a shoe designer, all while being a strong advocate for animal welfare.
Penelope's book "Different is Beautiful" is a heartwarming story that promotes acceptance and inclusivity among children. It encourages readers to accept people who may not look the same as they do and to be proud of who they are. Additionally, the ten helpful tips for parents that she offers in the book provide practical guidance on how to educate children about overcoming bias.
Penelope's recent venture into the fashion industry is equally admirable. Her sustainable and cruelty-free footwear line, Cassius Eco Fashion, is a testament to her commitment to ethical practices in the industry. Made from cork, vegan leathers, and organic cotton, the shoes are both stylish and environmentally conscious. It's inspiring to see how Penelope is using her passion for fashion to make a positive impact on the world.
Beyond her artistic pursuits, Penelope is also an animal lover and advocate. She uses her platform to support nonprofit organizations that work towards animal welfare. Her compassion for animals is reflected in her book, where she tells the story of Cassius, an eight-year-old pitbull who rallies other "special needs" animals to find loving homes.
Penelope's career is a testament to the power of pursuing one's passions and using them to make a positive impact on the world. Her work inspires us to embrace our differences, to be proud of who we are, and to use our talents to make the world a better place. We look forward to seeing what other amazing projects Penelope has in store for us in the future.
Vanessa Ferris-Leonard is an American director and actress who has made a name for herself in the entertainment industry through her talents and hard work. Born and raised in Toledo, Ohio, Vanessa always had a creative imagination and high dreams in life.
Vanessa's passion for art began at the age of five, when she started showing an interest in artwork, specifically sketching drawings and acrylic painting. As she grew older, Vanessa continued to explore her artistic side, taking up cheerleading at age 11, which lasted a total of seven years, ending with her senior year at the Varsity level squad. She also developed a hobby of music at age 16, forming a small garage band with her brother and friends. Through the band, Vanessa developed her stage presence, performing several concerts in the Midwest area.
Apart from music and art, Vanessa also pursued her interest in theater. She performed in several theatrical acts at her church and school while pursuing her passion for music. After completing high school, Vanessa furthered her education at Bowling Green State University, where she received a Bachelor's degree in Arts and Communications.
After receiving her degree, Vanessa landed her first on-screen feature film as a military official in the film, The Dead Will Rise 2 (2013) with Eye Open Pictures. The opportunity gave Vanessa a platform to continue pursuing her passion for acting, and she went on to land various roles in several regional independent films and television advertisements.
However, Vanessa's talents and passion for film did not stop at acting. In 2020, she wrote, directed, and acted in her first feature-length film, A Story Worth Living, which has screened at 16 film festivals worldwide, winning multiple awards in six countries. The film is a fictional drama that tackles the issue of mental health and normalizes the fact that people with mental illness lead everyday lives just like everyone else.
Vanessa's determination and free-spirited nature have been instrumental in her success in the entertainment industry. Her passion for art, music, and theater, combined with her talents and hard work, have brought her to where she is today. Her journey is a testament to the fact that with hard work and dedication, one can achieve their dreams and make a name for themselves in their chosen field.