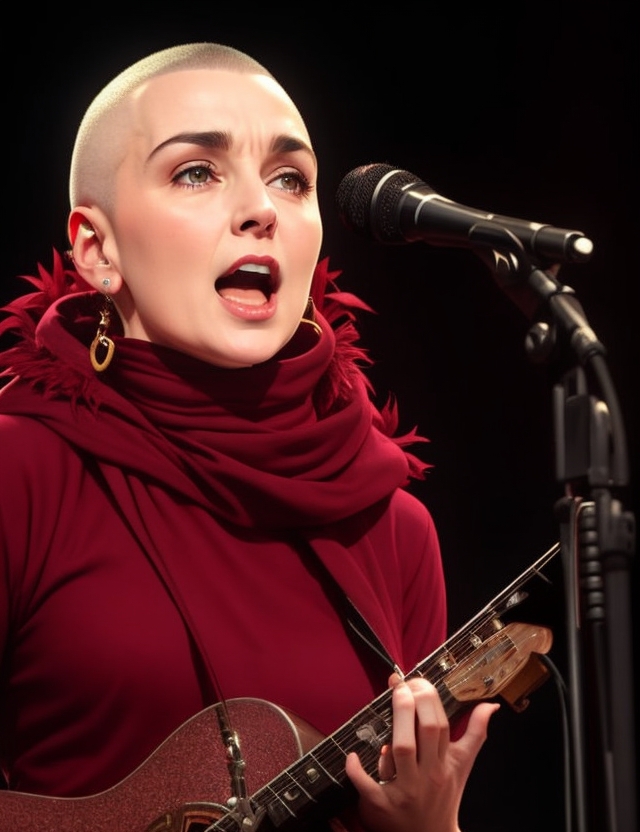 Sinead O'Connor is a name that evokes admiration, controversy, sympathy and curiosity. She is one of the most talented and original singers of her generation, but also one of the most troubled and misunderstood. Her career has been marked by highs and lows, successes and scandals, achievements and struggles. She has been praised for her powerful voice, her daring style, her social activism and her spiritual quest, but also criticized for her outspoken opinions, her erratic behavior, her religious conversions and her mental health issues. She has inspired millions of fans around the world, but also alienated many others. She has been a star, a rebel, a prophet, a pariah, a convert, a recluse and a legend.
In this article, we will explore the life story of Sinead O'Connor, from her humble beginnings in Ireland to her rise to fame in the 1980s and 1990s, from her controversial appearances on TV and stage to her sudden disappearance from the public eye in the 2000s and 2010s, from her conversion to Islam to her death and legacy. We will examine her musical influences, her top hits, her artistic vision, her personal struggles, her spiritual journey and her cultural impact. We will also look at some of the sources that have shaped our understanding of Sinead O'Connor, such as interviews, documentaries, biographies and memoirs.
This article is not meant to be a definitive or comprehensive account of Sinead O'Connor's life and career, but rather an introduction and an overview for those who want to learn more about this fascinating and complex artist. We hope that this article will spark your interest and curiosity to explore further the rich and diverse work of Sinead O'Connor.
Her Start and Influences
Sinead O'Connor was born on December 8th, 1966 in Dublin, Ireland. She was the third of five children of John and Marie O'Connor. Her parents had a turbulent and abusive relationship that ended in divorce when Sinead was eight years old. She and her siblings were split between their mother's and father's homes, where they suffered physical and emotional abuse from both sides. Sinead later described her childhood as "a living hell".
Music was one of the few sources of comfort and escape for Sinead. She started singing at a young age and developed a passion for music. She was influenced by a variety of genres and artists, such as Bob Dylan, David Bowie, The Beatles, The Rolling Stones, Bob Marley, Joni Mitchell, Nina Simone, Billie Holiday, Edith Piaf and Nusrat Fateh Ali Khan. She also discovered Irish folk music through artists like Christy Moore, Planxty and The Chieftains. She learned to play the guitar and started writing songs when she was a teenager.
Sinead's musical talent was recognized by some of her teachers at school, who encouraged her to pursue a career in music. She joined a band called Ton Ton Macoute when she was 15 years old and started performing in pubs and clubs around Dublin. She also enrolled in a music course at Newtown School in Waterford, where she met fellow musician Colm Farrelly. They formed a duo called The Dadaists and recorded a demo tape that caught the attention of Fachtna O'Ceallaigh, a music manager who had worked with U2.
O'Ceallaigh offered to manage Sinead's solo career and helped her secure a record deal with Ensign Records in London. He also introduced her to producer Mick Glossop, who worked with artists like Van Morrison and The Waterboys. Glossop and Sinead started working on her debut album, The Lion and the Cobra, in 1986. The album was released in 1987 and received critical acclaim for its original and eclectic sound, blending rock, pop, folk, reggae and gospel influences. Sinead's voice was praised for its range, power and emotion. The album also showcased Sinead's songwriting skills, as she co-wrote most of the songs and addressed themes such as love, religion, politics and feminism. The album spawned several singles, such as "Mandinka", "Troy" and "I Want Your (Hands on Me)", which became hits in Europe and the US. The album sold over two million copies worldwide and established Sinead as a rising star in the music industry.
Top Hits
Sinead's breakthrough came in 1990 with her second album, I Do Not Want What I Haven't Got. The album was a commercial and critical success, topping the charts in several countries and winning several awards, including a Grammy for Best Alternative Music Performance. The album featured Sinead's most famous song, "Nothing Compares 2 U", a cover of a Prince song that she made her own with her haunting vocals and iconic video. The song was a global smash, reaching number one in over 20 countries and becoming one of the best-selling singles of all time. The song also earned Sinead four MTV Video Music Awards, including Video of the Year.
The album also contained other hit songs, such as "The Emperor's New Clothes", "The Last Day of Our Acquaintance" and "Black Boys on Mopeds". The album reflected Sinead's personal and artistic growth, as she explored themes such as motherhood, relationships, social justice and spirituality. The album also showcased Sinead's versatility as a singer and songwriter, as she experimented with different genres and styles, such as soul, rap, jazz and classical music.
Sinead's third album, Am I Not Your Girl?, was released in 1992 and marked a departure from her previous work. The album consisted of covers of songs from the 1930s to the 1960s, mostly from musicals and films. Sinead said that she wanted to pay tribute to the singers who inspired her, such as Billie Holiday, Edith Piaf and Ella Fitzgerald. She also said that she wanted to challenge herself as a vocalist and work with a big orchestra. The album received mixed reviews from critics and fans, who praised Sinead's voice but questioned her choice of material. The album sold less than her previous albums and did not produce any major hits.
Sinead's fourth album, Universal Mother, was released in 1994 and marked a return to her original sound and style. The album was more personal and intimate than her previous albums, as she wrote most of the songs herself and addressed issues such as childhood abuse, divorce, abortion and war. The album also featured some spoken word tracks, such as "Famine" and "Fire on Babylon", which expressed Sinead's anger and frustration with the state of the world. The album received positive reviews from critics and fans, who welcomed Sinead's comeback to form. The album sold well in Europe but failed to make an impact in the US. The album spawned some singles, such as "Thank You for Hearing Me" and "No Man's Woman", which received moderate airplay.
Controversy Appearances
While Sinead was enjoying success as a singer and songwriter, she was also generating controversy with her outspoken views and actions. Sinead was known for being vocal about her opinions on various topics, such as religion, politics, human rights and sexuality. She often used her music and her platform to express her views and to challenge the status quo. She also engaged in several acts of protest and activism that drew attention and criticism from the media and the public.
One of the most notorious incidents occurred on October 3rd, 1992, when Sinead appeared as a musical guest on Saturday Night Live. She performed an a cappella version of Bob Marley's "War", which she changed to include references to child abuse in the Catholic Church. At the end of the song, she tore up a photo of Pope John Paul II and said "Fight the real enemy". The act was meant to be a statement against the Church's role in covering up cases of sexual abuse by priests, but it was widely perceived as an act of blasphemy and disrespect. The act sparked outrage and condemnation from many people, including religious leaders, politicians, celebrities and SNL staff. Sinead received death threats, boycotts and protests. She was also banned from ever appearing on SNL again.
Another controversial incident occurred on October 16th, 1992, when Sinead participated in a tribute concert for Bob Dylan at Madison Square Garden. She was booed by the audience as soon as she walked on stage, due to the SNL incident. She tried to perform a song by Edith Piaf, but was unable to continue due to the noise. She then sang "War" again, but this time with different lyrics that criticized the audience for their reaction. She then left the stage in tears. She was later comforted by Kris Kristofferson, who told her "Don't let the bastards get you down".
Sinead continued to make headlines with her controversial appearances and statements throughout the 1990s and 2000s. Some of the issues that she spoke out about included women's rights, gay rights, animal rights, racism, war, poverty and AIDS. She also clashed with several figures in the music industry, such as Prince, Madonna, Frank Sinatra and Miley Cyrus. She also faced legal troubles, such as being sued by her former manager Fachtna O'Ceallaigh for breach of contract and being arrested for disorderly conduct after a protest outside the US Embassy in Dublin.
Conversion to Islam
Sinead's spiritual journey was another aspect of her life that attracted attention and curiosity. Sinead was raised as a Catholic but rejected the faith due to her negative experiences with the Church and its teachings. She explored various religions and spiritual paths throughout her life, such as Buddhism, Hinduism, Rastafarianism and Judaism. She also ordained as a priest in a breakaway Catholic sect called the Irish Orthodox Catholic and Apostolic Church in 1999, taking the name Mother Bernadette Mary. However, she later renounced her ordination and said that she did not consider herself a Christian.
In 2018, Sinead announced that she had converted to Islam and changed her name to Shuhada' Davitt. She said that she had found peace and happiness in Islam and that it was the natural conclusion of her spiritual journey. She also said that she still respected other religions and beliefs and that she did not want to impose her views on anyone else. She shared her conversion process on social media, posting videos of herself reciting the shahada (the Islamic declaration of faith) and singing the adhan (the Islamic call to prayer). She also wore a hijab (a headscarf worn by some Muslim women) and adopted a modest dress code.
Sinead's conversion to Islam was met with mixed reactions from fans and observers. Some praised her for finding her faith and wished her well, while others questioned her sincerity and stability. Some also expressed concern about her safety and well-being, given the hostility and discrimination that Muslims face in some parts of the world.
Mental Health
Sinead's mental health was another aspect of her life that generated concern and sympathy from fans and friends. Sinead had struggled with mental health issues since her childhood, as a result of the trauma and abuse that she endured. She was diagnosed with bipolar disorder in 2003 and received treatment for it. She also suffered from depression, anxiety, post-traumatic stress disorder and suicidal thoughts. She often spoke openly about her mental health problems and advocated for more awareness and support for people who suffer from them.
Sinead's mental health issues also affected her personal and professional life. She had several relationships and marriages that ended in divorce or separation. She had four children from different partners, whom she loved dearly but had difficulty raising due to her instability. She also had periods of erratic behavior and poor judgment that damaged her reputation and career. She cancelled tours, missed appointments, made controversial statements, engaged in self-harm and attempted suicide several times.
Sinead's mental health issues reached a critical point in 2017, when she posted a video on Facebook where she appeared distressed and suicidal. She said that she was living in a motel in New Jersey and that she had no one to help her or care for her. She said that she felt abandoned by her family and friends and that she wanted to die. She also said that she was making the video to raise awareness about the plight of people who suffer from mental illness and to appeal for help. The video went viral and sparked an outpouring of support and concern from fans, celebrities and mental health organizations. Sinead later deleted the video and said that she was receiving treatment and was feeling better.
Death and Legacy
Sinead's death came as a shock and a tragedy to the world. She died on December 8th, 2021, on her 55th birthday, in her home in Dublin. The cause of death was not officially confirmed, but it was widely speculated that it was a suicide. Sinead had left a note on her social media accounts, saying that she was sorry for hurting anyone and that she hoped to meet God soon.
Sinead's death sparked an outpouring of grief and tributes from fans, friends, family and fellow artists. Many people expressed their admiration for her talent, courage, honesty and spirit. Many people also expressed their regret for not being able to help her or understand her better. Many people also celebrated her music, her legacy and her impact on the world.
Sinead O'Connor was one of the most influential and controversial singers of the 20th century. She was a pioneer, a rebel, a visionary, a survivor and a legend. She left behind a rich and diverse body of work that touched millions of people across generations and cultures. She also left behind a message of love, compassion, justice and peace that resonated with many people who shared her values and vision. She will be remembered as one of the greatest artists of all time.
References: