by Sherif M. Awad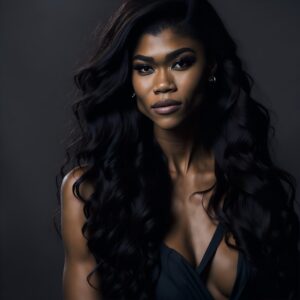 Zendaya is not only a talented actress, singer and activist, but also a hair chameleon who can rock any style with confidence and flair. From mullets to locs, from bobs to braids, Zendaya has experimented with different textures, colors and lengths throughout her career. In this blog post, we will take a look at some of her most memorable hair transformations and how she pulls them off with ease.
The Natural Curl Pattern
Zendaya has embraced her natural curls since she was young, and she often shows them off on social media and red carpet events. She is conscious of hair care and avoids using too much heat or overstyling her hair. She also likes to wear wigs and extensions to protect her natural hair and change up her look.
Here she is rocking her natural curls at the 2017 Met Gala:
Here she is showing off her curly ponytail on Instagram:
Here she is flaunting her voluminous afro at the 2017 InStyle Awards:
The Sleek and Straight
Zendaya can also go for a sleek and straight look that highlights her features and gives her a sophisticated vibe. She often opts for this style when wearing glamorous gowns or edgy outfits. She can also play with different lengths, from long to short, depending on her mood.
Here she is slaying a long and straight look at the 2016 Billboard Music Awards:
Here she is nailing a short and straight bob at the 2019 Euphoria FYC event:
Here she is stunning in a shoulder-length lob at the 2018 Vanity Fair Oscar Party:
The Bold and Adventurous
Zendaya is not afraid to try new things and experiment with different styles that showcase her personality and creativity. She has worn some of the most daring and unexpected looks in the industry, such as mullets, pixies, faux hawks, dreadlocks and more. She always manages to make them work with her attitude and charisma.
Here she is rocking a mullet at the 2016 Grammy Awards:
Here she is sporting a pixie cut at the 2015 BET Awards:
Here she is making a statement with dreadlocks at the 2015 Academy Awards:
The Conclusion
Zendaya's journey to stardom began in her hometown of Oakland,
California
, where she was born to teachers Claire Stoermer and Kazembe Ajamu. She started
performing
at a young age, practicing hula with the Academy of Hawaiian Arts and dancing with Future Shock Oakland, a hip-hop dance troupe. She also studied at various theater programs and acted in several stage productions. She also modeled and appeared in
TV commercials
. Her big break came in 2010, when she landed the role of Rocky Blue on the Disney Channel sitcom Shake It Up, which launched her
acting and singing
career. She
went on to star
in other Disney shows and movies, as well as releasing her own music. She also competed on Dancing with the Stars and became a
role model
for young girls with her book of advice.
Zendaya is a true hair icon who can pull off any look with grace and style. She inspires us to have fun with our hair and express ourselves through different hairstyles. Whether it's natural, sleek or bold, Zendaya always nails every look.